Привет все те, кто любит «Спартак-Приморье» и верит в него!
Это ваш любимый нигерийско-американский Чемберлен Огучи с очередным постом.
Со времени моего предыдущего рассказа мало что поменялось кроме погоды, чему я, кстати, несказанно рад. Кажется, что весна наконец пришла во Владивосток, и суровая зима отступает. Эта перемена погоды подарила мне возможность свободно передвигаться по улице без страха заработать обморожение))) Это фантастика! Что самое забавное, в то время как температура за окном повышается, мое желание выходить из дома уменьшается. Спросите почему? Сейчас я еще больше дома смотрю фильмы, болтаю с друзьями и семьей, но я знаю, что нужно обязательно пользоваться теплыми солнечными деньками пока они наступили. А еще я очень надеюсь, что солнце будет ярко светить 28 апреля, потому что это мой день рождения))
Недавно мы всей командой ходили играть в боулинг, это оказалось даже веселее, чем я мог предположить. Некоторые ребята отлично играют в боулинг, а другие... ну, в общем, скажем так - мы все должны быть рады, что они играют в баскетбол, а не в боулинг.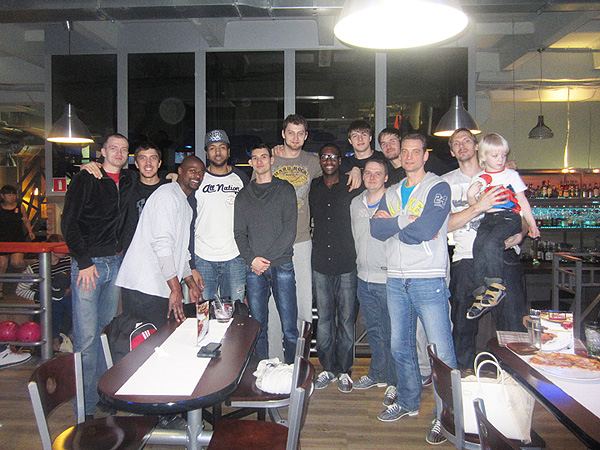 Еще я хочу поделиться с вами радостью, что я все больше и больше начинаю узнавать о Владивостоке, что и где находится. И, хотя, каждодневная рутина может иногда надоесть, я сумел привнести в свою жизнь постоянство благодаря этому. Огромное спасибо англо-говорящим жителям Владивостока за то, что сейчас я уже знаю что мне нужно, как это найти и где. И если вам интересно, как там мой русский - он становится лучше и лучше. Хотя я немного притормозил с изучением после того, как с удивлением узнал, что большинство слов и фраз, которые я выучил - нецензурные))) Но это меня не остановило, я все еще учусь. И сейчас уже, когда я слышу чьи-то разговоры, я улавливаю слова, которые я уже знаю. Это супер! Дайте мне пару недель, и я буду свободно говорить по-русски. Хаха ))
Что касается баскетбольной части моей жизни, я могу сказать честно - я счастлив, наблюдая за тем, как идут дела.
С моего прошлого блога наша команда стала еще лучше, превратилась в действительно опасную команду, способную победить любого соперника в любой момент. Всего этого мы добились благодаря сыгранности, которая строится на особой роли каждого баскетболиста в команде. Защита Даниила Соловьева и Максима Колюшкина, блок-шоты Артема Забелина, устремленность и энергия Ильи Сыроватко и Дмитрия Гордеева, способность вести за собой на площадке Алексея Голяхова, логичность действий и постоянство Константина Нестерова, Пол Делейни, который успевает на всех позициях, перехваты и пасы Алексея Суровцева и подборы Троя Гилленвотэ - все это обычно замечают только профессионалы, но эти, казалось бы, незаметные мелочи сейчас - неотъемлемая составляющая развития всей команды. Нельзя не сказать и о работе тренера Ветры и всего тренерского штаба. Они превосходны в подготовке команды и разработке стратегий. Они всегда могут поднять командный дух, даже когда уже руки начинают опускаться.
Недавно наша победная серия из трех игр была прервана досадным проигрышем «Локомотиву». Обидно. Ведь мы-то надеялись побить рекорд «Майами Хит» в этом сезоне )))
Что касается меня лично, я считаю, что я играю неплохо)) Мне даже кажется, что я стал страшным ночным кошмаром для команд-соперников. Каждую игру я чувствую, что они делают все, чтобы помешать мне в защите, но, к их сожалению, я все это уже видел. Я просто благодарен за то, что я здоров и хорошо играю.
Вот и все, что я хотел рассказать. Обязательно приходите поддержать «Спартак-Приморье» в «Финале четырех», который состоится 16-17 апреля во Владивостоке. Будем ждать вас, для нас это важно.
Напоследок хочу пожелать скорейшего выздоровления ребятам, получившим травмы - Артему Забелину, Аде Дагундуро, Данило Галлинари и Кевину Уэйру. Увидимся...
Искренне ваш,
Чемберлен «Чемп» Огучи №23
__________________________________________________________________________
Hello Spartak-Primorye faithful!
It is your favorite Nigerian-American Chamberlain Oguchi coming to you with another blog. Since my last post not too much has changed except for the weather, which I am extremely happy to say. It appears that spring has finally arrived and the harsh cold weather is slowly disappearing. This climate change has allowed me the freedom to walk when needed through the city of Vladivostok without fear of getting Hypothermia . Fantastic! What is ironic is that while the weather temperatures have increased, my desire to leave my home since has decreased. Why? I have been watching movies and talking with friends/family more but I know I should take advantage of the warm days while they're here. I just hope the sun is shining brightly on April 28th because that is my birthday. Not too long ago we had a team bowling night that turned out to be a lot of fun. Some of my teammates showed they are good bowlers while others… let's just say we should all be glad they are basketball players and not bowlers.
I am also happy to report that I have become quite familiar with my surroundings since my last post. Even though routines can sometimes be boring, I have developed somewhat of a routine in order to establish consistency in my life. Thanks to some generous English-speaking citizens I now have a better understanding of what I need, how to get it, and where to get it. Also in case you were wondering how my Russian language is going, it is still improving. I had a slight setback after finding out that some of the words/phrases I had learned were not suitable for conversations with just anyone

but I'm still learning. I'm beginning to pick up words when I hear others talking now, which I think is pretty cool. 2 more weeks and I'll probably be a fluent Russian speaker. HEHE.
As for the basketball part of life I can honestly say that I am happy about how things have progressed. Since my last post this team has gotten even better, evolving into a dangerous team capable of beating any team on any given night. Much of this has to do with the chemistry we have developed on the court in addition to each player accepting his role within the team. Daniil Solovyov and Maxim Kolyushkin's defense, Artem Zabelin's block shots, Iliya Syrovatko and Dmitrii Gordeev's heart & energy, Aleksei Golyakhov's court leadership, Konstantin Nesterov's consistency, Paul Delaney's improved all-around game, Aleksei Surovtsev's steals & passing, and Troy Gillenwater's rebounding are things that usually go unnoticed by the untrained eye, but these small things have been essential in our team's improvement. Not to mention Coach Vetra and his staff have been outstanding in their game preparation and strategies. They always manage to keep the hope alive. Recently we held a season-high 3-game win streak that was snapped in a narrow loss to Lokomotiv last week. It was unfortunate because we were hoping to surpass the Miami Heat record this season. HEHE. Individually I believe I have been playing pretty well. It seems as if I have turned myself into the opposing team's worst nightmare. Each game I can feel the emphasis of the opposing team to limit my offensive production, but unfortunately for them I've seen it all before. I am just thankful to be healthy and playing well.
Well, that is all I have for now. I look forward to seeing and hearing your continued support during the Russian Cup Final 4 taking place here in Vladivostok April 16, 17. Special get well soon wishes to Artem Zabelin, Ade Dagunduro, Danilo Gallinari, and Kevin Ware. Until next time….
Yours truly,
Chamberlain "Champ" Oguchi #23
(Spartak-Primorye/Olympic guard)