Привет всем!
Я – Чемберлен «Чемп» Огучи, игрок вашей любимой баскетбольной команды «Спартак-Приморье». Я решил начать вести блог, чтобы вы, фанаты, узнали побольше обо мне и о моих впечатлениях от России.
Для тех, кто меня не знает, расскажу кратко о себе. Я родился 26 лет назад в Хьюстоне, штат Техас, в семье иммигрантов из Нигерии. Всего у нас в семье четверо детей. Жизнь у нас была непростая, но благодаря баскетболу у меня и моего брата она изменилась и стала ярче. Так как баскетбол как спорт я открыл для себя еще в 7 лет, то за всю свою карьеру я уже добился многих целей, которые себе поставил с детства. Одной из таких важных жизненных целей было мое выступление на Олимпийских играх в прошлом году в Лондоне.
Из всех стран, в которых я побывал за свою, хоть пока и недолгую жизнь, могу точно сказать, что пока Россия – самая холодная страна, которую я видел. Здесь у вас конкурентов лично для меня нет. Поздравляю ))) И, хотя, передвигаться каждый день по снегу и льду с одной мыслью – как бы не упасть, для меня не очень весело, у такой холодной погоды есть ключевое для меня достоинство – так легко лечь в кровать, свернувшись калачиком и спать. А для человека, который любит спать так, как люблю это я, это просто замечательно ))) В свободное от тренировок и так любимого мной сна, я смотрю фильмы или болтаю с семьей и друзьями. А с недавнего времени у меня появилось еще одно хобби – игра в видеоигры (НБА 2К13) с моими американскими друзьями Троем Гилленвоте и Полом Делейни III. Ну, думаю, не стоит уточнять, что я всегда выигрываю )))) Иногда я иду гулять по улицам Владивостока и хочу сказать, что мне очень нравится дружелюбность жителей города. Так что, не удивляйтесь, если вдруг увидите меня на улице и услышите как я говорю по-русски. Да-да, по-русски. Благодаря моим товарищам по команде Даниилу Соловьеву, Константину Нестерову, Артему Забелину и Илье Сыроватко я быстро учусь. Русский, конечно, очень сложный язык, но меня очень стимулирует то, какое впечатление это производит на случайных прохожих, когда я внезапно говорю им что-нибудь по-русски. Они так странно на меня и смотрят, и в голове у них:
«Он что, правда говорит по-русски????» )))))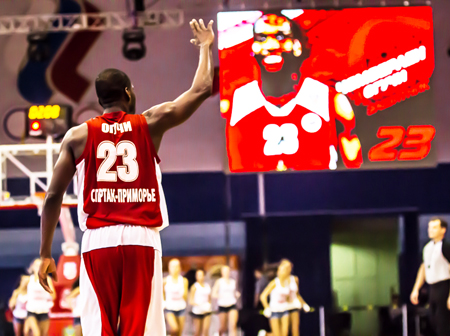 Что касается баскетбола, я чувствую прогресс. Мне потребовалось не очень много времени, чтобы привыкнуть к команде. Я уже знаю, кто как в моей команде играет, они тоже теперь знают меня. Нельзя не отметить и работу тренера Гундарса Ветры и всего тренерского штаба, я быстро влился в команду с их помощью. Будучи игроком высокого уровня, главный тренер сам не понаслышке знает что нужно, чтобы добиться успеха в баскетболе и легко находит контакт со своими игроками. С командой «Спартак-Приморье» я сыграл 5 игр и с каждой последующей я чувствую, что не только помогаю команде все больше, но и сам расту профессионально. Не так давно, например, во время игры с Нижним Новгородом я набрал 32 очка, это для меня рекорд в этом сезоне. Впервые во Владивостоке я сыграл несколько дней назад и, по-моему, все прошло просто замечательно. Поддержка болельщиков меня очень поразила и очень помогла, поэтому было вдвойне приятно выиграть кубковую игру. Я хочу поблагодарить болельщиков и хочу вам сказать, что для команды это очень важно, с такой поддержкой команда будет отрабатывать на 110%.
Ну, вот такие эмоции у меня сейчас. Спасибо, что нашли время прочесть мой блог. Надеюсь увидеть вас всех на следующих играх. Можете также найти меня в Твиттере и Инстаграм. Twitter and Instagram: @ChampOguchi
Вперед, «Спартак-Приморье»!!!!
Чемберлен «Чемп» Огучи №23
_______________________________________________________________________________
Hello everyone!
This is Chamberlain "Champ" Oguchi of your beloved Spartak-Primorye basketball team. I decided to start this blog to share with you, the fans, more of who I am and my experience here in Russia thus far. For those who do not know me, I want to begin by briefly introducing myself. I am a 26-year old Nigerian-American born of Nigerian immigrant parents in Houston, Texas (USA) along with 3 other siblings. Life was not easy for my family and I growing up, but thanks to the game of basketball my brother and I were able to live a more gracious life. Since I began playing basketball at the age of 7 I have been able to attain many achievements over the course of my basketball career. None more gratifying than achieving my life-long goal of playing in the Olympic Games last summer (London 2012).
Of all the countries I have visited throughout my life, I have to admit that Russia is by far the coldest I have ever been to. Congratulations. Although slipping on the ice/snow everyday isn't fun for me, the cold weather has one key benefit – it helps me stay snuggled in bed a lot easier. For a person who loves to sleep as much as I do, that is wonderful Haha. When I'm not practicing on the basketball court or when I'm not sleeping, I find myself watching movies or chatting with family and friends. Recently one of my hobbies has been playing video games (NBA 2K13) with fellow Americans Troy Gillenwater and Paul Delaney III. Of course I always win Haha. On occasion I go out to experience the city of Vladivostok and I can honestly say that I am enjoying the friendly people of the city. Don't be surprised if you see me out and hear me speak the Russian language because thanks to my teammates Daniil Soloviev, Konstantin Nesterov, Artem Zabelin, and Iliya Syrovatko I am learning quickly. It is difficult to learn, but I love it when I say something in Russian to a random person and they look at me strange thinking,
"Does he really know how to speak Russian?"
Haha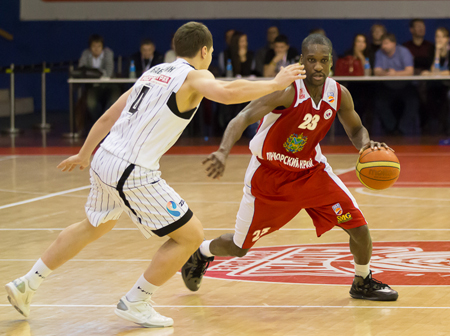 On the basketball side, things have been really improving. It took a little time for me to get accustomed to the team, but I feel like things are coming together. I have learned my teammates' games and vice versa. Coach Vetra and his staff have done a great job of helping me in the assimilation process. Having been a high-level player himself, he knows what it takes to be successful and can relate to his players. I have played in 5 games since my arrival to Spartak-Primorye and each game has gotten better and better personally and for the team. In fact, not too long ago I was able to record this season's high scoring mark with 32 points against Nizhny Novgorod. I played my first game in Vladivostok a few days ago and it couldn't have gone any better. The fan support for the game was amazing and it was great to be able to win the game and advance to the Russian Cup Final 4. I want to encourage the fans to continue showing such great support for the team and we will always give our 110% in return. Well, that is all I have for now. Thank you for taking the time to read this blog and I hope to see you at the games. You can also follow me on Twitter and Instagram: @ChampOguchi. Go Spartak-Primorye!
Chamberlain "Champ" Oguchi
#23-
(Spartak-Primorye shooting guard)